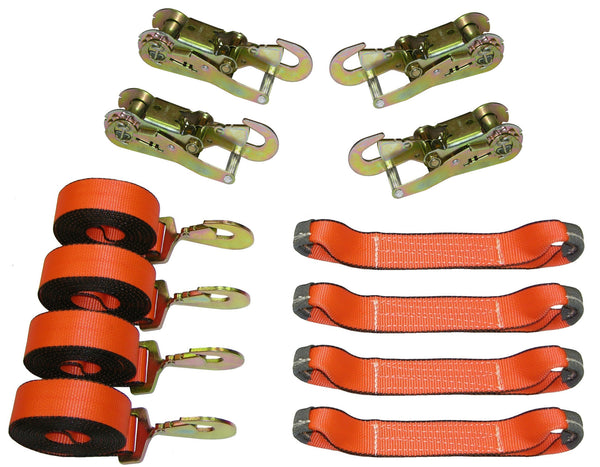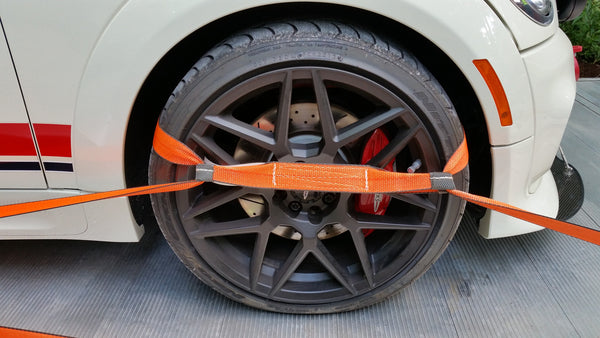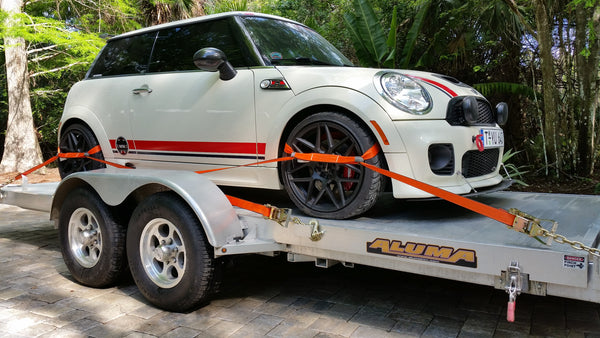 Car Trailer Tie Down | 8 Point Tie Down System With Snap Hooks 18' Long
protiedowns.com 8 Point Tie Down System is one of the most versatile car trailer  tie down systems on the market.  With the ability to adjust for the size of the tire, the length of the trailer and even the type of trailer connecting points you have.  protiedowns.com offers this 8 Point tie down system with Snap hook attachments that work great for trailers with D Rings as attachment points.
Each strap has the ability to hold the vehicle from moving forwards or backwards as well as side to side preventing accidental movement of your vehicle while transporting.  The soft tie system is easy to install since there is no need to reach under the vehicle.  All of the attachments are on the outside of the vehicle and connect to the D Rings in your trailers deck. 18' long straps for long trailers or vehicles with extremely large wheels.  4,000 lbs wll each / 12,000 lbs Wll when used as a kit of 4!
Pro Web is truly Professional Grade webbing.  Our web has been impregnated with a PVB resin that protects the yarns from Grease, Oil and other solvents as well as UV rays.  The web itself is a smaller tighter weave than most "economical" webbing making it more flexible and easier to handle especially when it is wet or frozen.  Pro Web is also 50% less absorbent than the other webbing.  Pro Web's edges are protected with Black Thermoplastic Coated Polymer Yarns to help reduce wear and tearing.
All protiedowns.com rigging is rated at a safe working load limit or WLL. Our straps are rated at a 3:1 safety factor meaning the posted WLL is 33% of the actual breaking strength.
Made in the USA!